FAST, ACCURATE LEAK DETECTION
Leighton O'Brien offers the most advanced tank and line testing technology available. There is no leak scenario that our test method cannot detect.
Continually developing our leak detection technology means Leighton O'Brien has the world's only US EPAcertified precision dry line test in just 3 minutes, the fastest and most accurate wet line test in 17.5 minutes, and a precision tank test capable of testing in as little as one hour with minimal disruption to sales.
Historically tank and line testing has been used to meet regulatory requirements or because of a
problem on site. This approach is changing. The vast majority of Leighton O'Brien integrity testing is now conducted by our customers as a preventative measure to stop problems before they happen.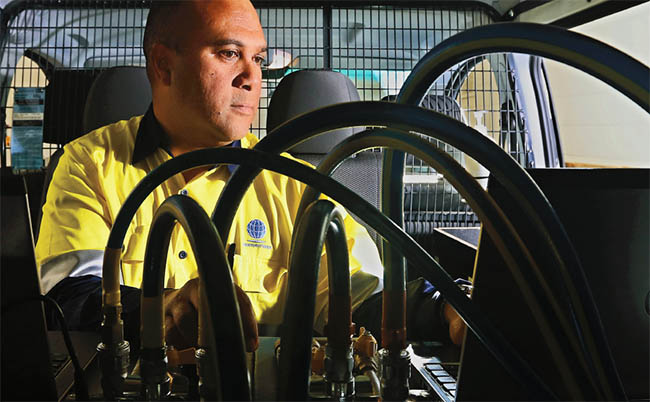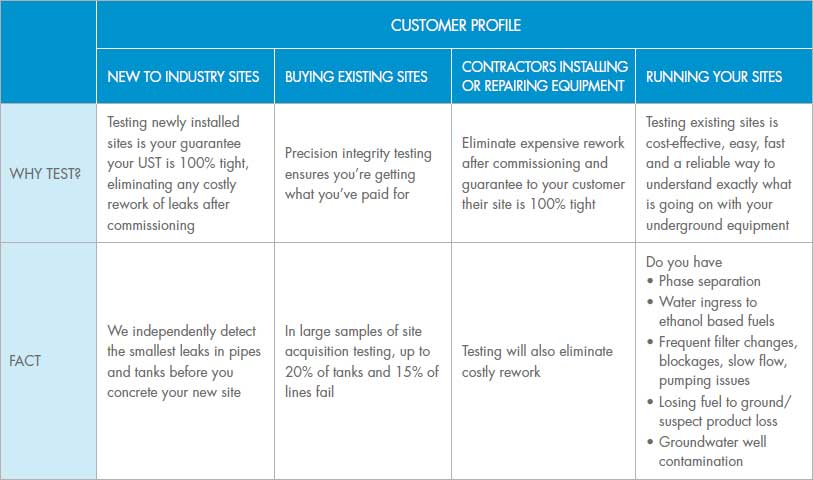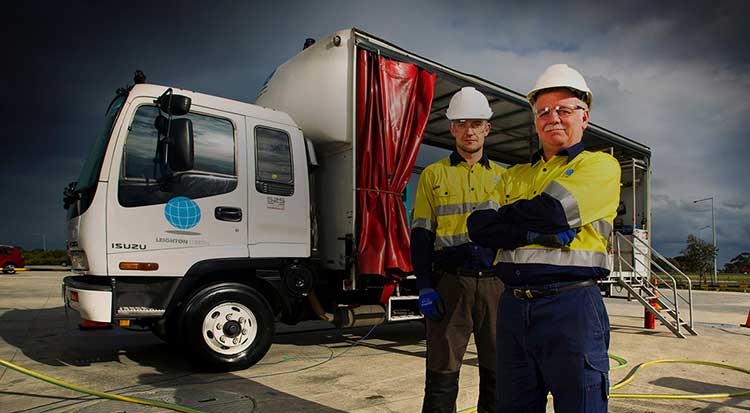 THE LEIGHTON O'BRIEN ADVANTAGE:
Our proprietary tank test technology can detect pressure changes of 1 Pascal, enabling detection of the smallest liquid movement

We can detect a level change of 1/1000mm to identify any loss of integrity in your system

We can test your entire system in any configuration on a single technology platform

We can test tanks at any fill level, including empty tanks, with the same high degree of accuracy

Testing just tanks is not enough – 90% of new sites we test have a leak in the product lines

Our test equipment is portable so we can mobilise to test in virtually any location worldwide

We DO NOT rely on site technicians to make the final call on results. Our engineers can identify leak detection patterns in the data to address problems that go beyond a simple pass or fail
Why mass and not vacuum based testing?
Leighton O'Brien choose to conduct 99% of its work using a mass-based underfill test – simply because this method avoids many of the issues that plague vacuum tests and allows clear identification of all leaks for quick repair.

With vacuum testing you cannot 'hear' a leak no matter how sensitive your equipment if the leak has been sealed by the vacuum force. Eighty-five per cent of ullage leaks will occur in manways, and by exerting a vacuum force of 5PSI (as is standard in some vacuum acoustic tests), a force equivalent to placing a 6.4 ton weight on the manway is exerted during the test. This force effectively seals any leaks causing a FALSE pass only return when the vacuum is released.

Traditionally vacuum tests don't diagnose the issue; rather you just receive a pass or fail result. With Leighton O'Brien you can be advised if liquid is entering or leaving the tank and at what rate, allowing you to accurately assess the next steps.